About Harbourmaster Bar & Restaurant, heart of the IFSC...
The Harbourmaster is located in the heart of Dublin's ever growing and bustling business district, the IFSC. 
The International Financial Services Centre is the key symbol for the regeneration of Dublin Docklands. Today, the IFSC employs over 42,000 people in over 500 international and Irish financial services.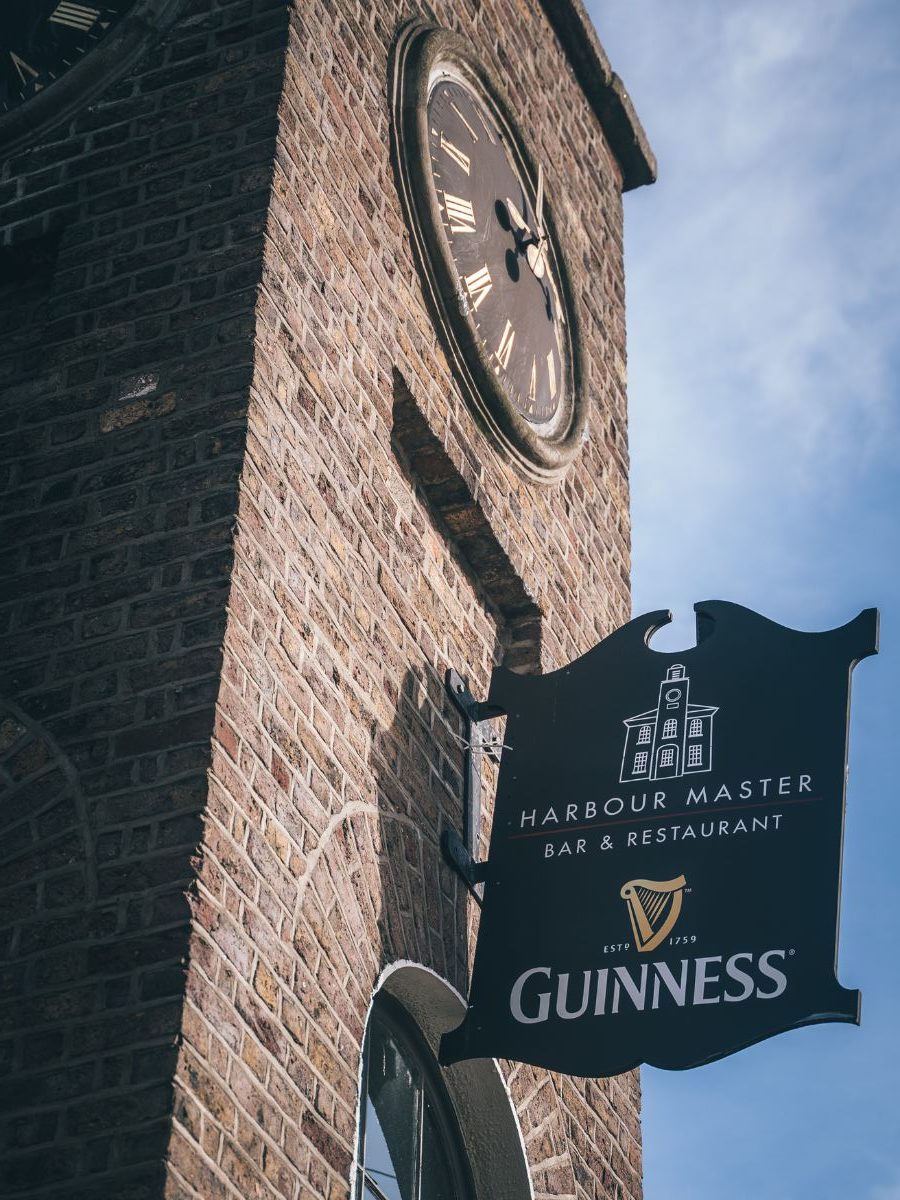 Our fabulous former Dock Office / Harbourmaster house was first built in the 1830s and later transformed into a pub and restaurant in the 2000s. 
The Harbourmaster is a Georgian building located at Custom House Docks in Dublin Docklands. It was built in the 1830s as the harbormaster's house and offices of the port administration. For this reason, it was initially named the Dock Offices.
The Harbourmaster, with its location overlooking George's Dock, was in the midst of Dublin Port, where customs traffic and berthing fees were regulated.
The offices were subsequently relocated to the Alexandra Basin and the complex was sold to the Thomas Read Group in the 2000s. As part of the Docklands redevelopment project, the building was converted by its new owner and has since functioned as a pub and restaurant.
During the conversion work, care was taken to preserve Harbourmaster's original character. That is why the golden lettering 'Dock Offices' is still located in the middle of the wall next to the entrance and you can still see painted metal clocks on each side of the three-story tower.
Because of its historical importance, the complex is today registered in the Record of Protected Structures, which lists all protected structures and buildings in Dublin.
The Harbourmaster Bar and Restaurant is now owned by Seán Doyle of the Seán Doyle Group, Gorey, Co. Wexford. Seán has been hugely involved in the running of the restaurant since taking over the 20-year lease in May 2010, and ownership of the building in 2016, and continues to play a leading role in its development.
The Harbourmaster has been newly renovated to cater to your every need.
The Bar, Restaurant and Greenhouse function room have all undergone cutting edge design transformations in the last few years.
The Harbourmaster is renowned for its delicious, great quality and reasonably priced food, which can be enjoyed in our stylish restaurant or in the old-Irish-style main bar which still retains its dock house character. 
With our classic function rooms, nooks and crannies, the Harbourmaster is the perfect setting for any occasion however large or small! No matter what your need, our friendly team of professionals are at your service!
Our historic former harbourmaster's house dates back to the 1830s
Tastefully modernised in a contemporary style
The Harbourmaster offers a choice of ambiances, you can choose between our slick and sophisticated Restaurant or enjoy our food in our chilled out, old style Main Bar.